The steadily falling cost of unmanned aerial vehicles (UAVs), commonly known as drones, has allowed for their expansion in new and existing areas, including professional and industrial markets for use in photography, racing, surveying, mapping and package delivery. Drones for recreational use are also on the rise.
In 2019, drone use is expected to continue to grow, expanding to include applications like drone security, public safety and more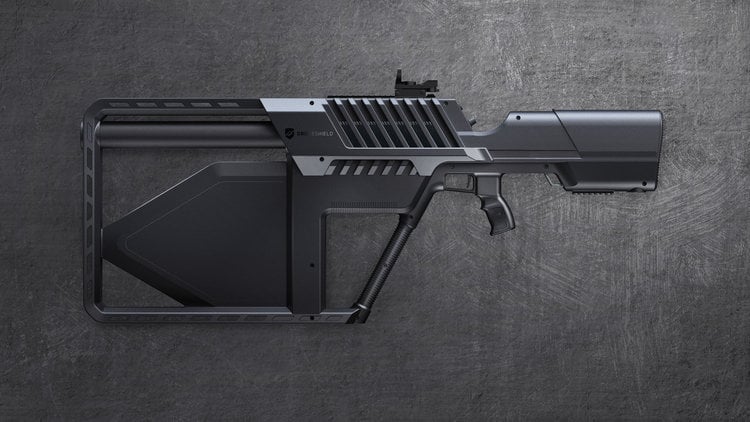 Incidents involving drones flying near critical infrastructure areas and major airports are increasing in number. The biggest incident came late last year when a handful of drones allegedly grounded flights at Gatwick airportin the U.K., affecting about 110,000 passengers that were either due to take off or land at the airport.
Last month, London's Heathrow Airport briefly closed after drones allegedly were spotted in the areas. Possible drone sightings near New Jersey's Newark Liberty International Airport disrupted flights both in and out of the area causing delays. And a Greenpeace drone notably dropped smoke bombs on a French nuclear power facility to expose a weak point in the facility.
Add to this the use of drones for smuggling contraband into prison facilities and using drones to carry bombs as a tactic of war, and the incidents bring up important questions that will need to be addressed in 2019. Namely, how do governments and critical facilities prevent drones from getting so close and what penalties will be established to deter behavior?
"I believe this is not a matter just for 2019 but is the most important issue that needs to be addressed in the next few years if we are to see drones being deployed in a large scale," Stelios Kotakis, senior research analyst for service provider technology at IHS Markit, told Electronics360.
Kotakis said there are going to be measures taken this year for traditional aviation to allow governments and relative authorities to identify any flying drone at a given time in a specific area.
Companies such as DroneShield and Dedrone are already working on ways to combat drones that threaten high-security areas or installations with both hardware and software solutions.
DroneShield has developed sentry devices equipped with radar and thermal imaging to track down incoming drones as an early warning system. DroneShield also has the DroneGun Tactical, a rifle-like device that can bring down drones in a safe manner.
Dedrone has developed both RF sensors with drone tracking software that includes both passive and active countermeasures that can be used to track flight paths of drones as well as pilot positioning.
For the past year and a half, the drone delivery market has heated up. Both small and large companies are launching pilot projects to test the viability of this form of last-mile logistics and goods transport before it goes mainstream.
This year, drone delivery will continue to ramp up with more projects testing the technology and determining how it interacts with society. Flytrex, which last year delivered more than 1,000 goods in Iceland and began a program at a North Dakota golf course to bring food and drinks to consumers on the links, will begin a program in Holy Springs, North Carolina, as part of the FAA's UAS Integration Pilot Program. That pilot will bring food, drugs and clothing to consumers in the town.
"We are beginning to reach a point of instant gratification of whatever you want as fast as you can order online," said Yariv Bash, CEO of Flytrx. "If you want the next iPhone you don't have to wait the next day, you can order it online and get it in 15 minutes. By the end of this year that will start happening."
Bash said drone delivery is a perfect companion to online ordering that blossomed as a result of programs such as Amazon Prime.
"Amazon told consumers it would cut shipping costs so people felt at ease with ordering one thing at a time," Bash said. "We see this as the ultimate use for small, light drones and will eventually be a preferred method of shipping on different sites."
Although drones will probably not carry the next large-screen TV that consumers order, Bash said drones can carry about 90% of all things that can be sent through Amazon.
While pilots will continue to ramp up drone delivery in 2019, wide-scale drone deliveries won't happen until the end of 2020 or early 2021 when the technology evolves and regulation is sorted out, Bash said.
IHS' Kotakis agrees that technology such as detect and avoid needs to develop in order to further the penetration of drones in the delivery market.
"We also need further justification of the value added by drones in specific business areas and reasoning of why this value cannot be achieved with optimizing even more traditional methods," he said.
Drones used in public safety
Another trend that will see expansion in 2019 is the use of drones in safety, search and rescue, and firefighting. Drones have saved more than 130 people at sea, lost in the wilderness or in car crashes. Compared to helicopters, drones can be deployed quickly and directly into the field. They can also carry thermal imaging devices to see through smoke, fog, darkness or vegetation.
The adoption rate of drones in public safety has risen quickly, doubling from 2014 to 2015, doubling again from 2015 to 2016 and almost doubling again from 2016 to 2017, according to Romeo Durscher, director of public safety integration at DJI, one of the largest drone makers.
"We have about 27,000 fire departments and 18,000 police departments in the U.S.," Durscher said. "But out of those only 500 have a manned aircraft unit. So there is a real need to have quick deployable platforms that provide an aerial overview at a much lower cost than a manned aircraft. I believe that more departments and city agencies will utilize this technology because it is cost effective, it helps protect the public and, most importantly, it increases safety to the boots on the ground."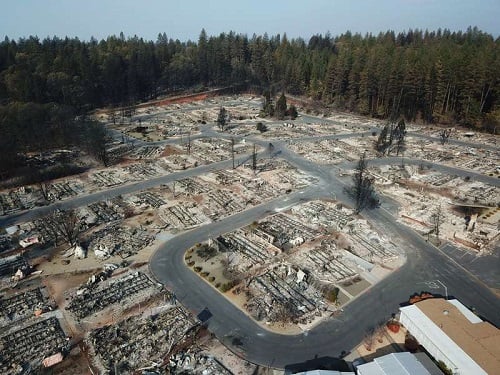 "The ability to reduce injuries to the public and safety personnel, the decrease in costs to a city or county by keeping teams more effective and efficient and the advantage of seeing more of the surrounding area during an emergency or accident are all advantages to what drones bring to public safety, he said.
"Some firefighters have referred to the drone as the 'best invention since the fire hose,'" Durscher said. "But there is still more work to be done to get even more benefits out of these devices and their data."
In November 2018, DJI worked with 16 public safety teams after fires devastated Paradise, California. DJI helped to map the entire town and processed the data within 48 hours, launching over 500 flights and taking more than 70,000 images to cover 17,000 acres. DJI provided information to rescue and recovery operations as well as the people who evacuated. In the past 14 months, DJI has helped with three wildfires in California.
"This may be our new norm. While we are not at a stage to actively fight wild fires, we have the ability to provide incredible helpful data to not only the front lines, but also for disaster recovery," Durscher said.
Using thermal cameras, the drones could fly at night to detect hotspots and better tack the fire lines so that the morning shift teams would have the most up-to-date data. The drones were also used in recovery efforts in burned buildings, searching for survivors before K9 units went in.
Beyond visual line of sight
One developing technology in addition to detect and avoid is beyond visual line of sight (BVLOS), widely considered one of the necessary next steps for the future of drone operations and paramount for drone delivery. BVLOS allows drone operators to conduct complex drone operations where the device flies beyond a point where they can see it. It also allows drones to be able to conduct autonomous flight with no pilot needed for take-off or landing.
Companies are already testing BVLOS in the field. Vodafone in the U.K. has been working on drone flights using its 4G networks. Typically, drones communicate back to the pilot via a radio link, giving the operator a line of sight within the operating range. With a 4G modem on board, drones can be monitored in real time from a greater distance without having to stay directly in range of radio signals.
Drone Delivery Canada has also started testing BVLOS flight tests in Alma, Quebec, Canada, as part of the first phase of Canada's Remote Communities Project. The BVLOS testing is designed to see how drones perform over long distances to rural locations in northern Canada that typically do not have access to medical supplies or other much-needed items.
Kotakis said that efforts toward ensuring flight BVLOS can become a safe reality in 2019 given the advancements made in 2018.
To contact the author of this article, email Peter.Brown@ieeeglobalspec.com